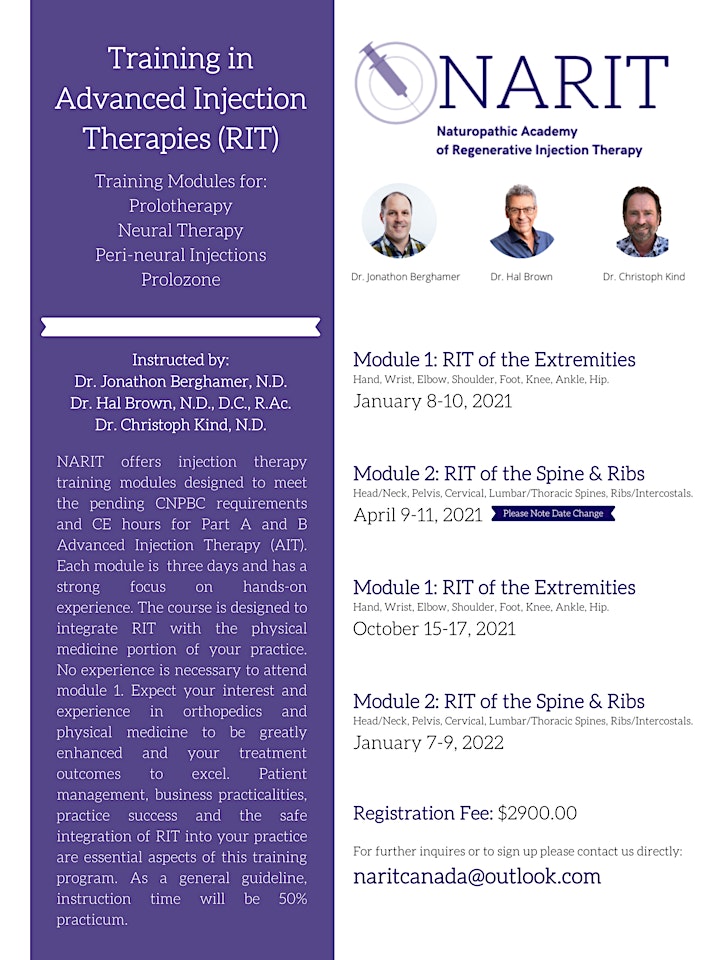 NARIT offers injection therapy training modules designed to meet the pending CNPBC requirements and CE hours for Part A and B Advanced Injection Therapy (AIT). Each module is 3 days totaling 24 hours in lectures, with a strong focus on hands-on training.
The course is designed to integrate RIT with the physical medicine portion of your practice. No experience is necessary to attend module 1. Expect your interest and experience in orthopedics and physical medicine to be greatly enhanced and your treatment outcomes to excel. Patient management, business practicalities, practice success and the safe integration of RIT into your practice are essential aspects of this training program. As a general guideline, instruction time will be 50% practicum.
Pre-requisites:
Please note: Only applicants whose medical board allows the right to these above mentioned injections will be accepted.
Naturopathic doctors must have prescribing rights. Although no prolotherapy experience is necessary to attend module 1, success in the course is facilitated with your knowledge in the basics of physical medicine practice, including anatomy and orthopedics.
Course module 1 or equivalent needs to be completed prior to applying for course module 2 and advanced modules. Applicants will be practicing injection therapies on each other and should be prepared to administer and receive injections. Surrogates are welcomed but must be arranged ahead of time with NARIT, please contact us via email at naritcanada@outlook.com.